Archive for category korea
bismillah..
Kalau mau maju, maka belajarlah.. tingkatkan pendidikan rakyat..
itulah yang korea alami.. mereka maju karena masyarakatnya peduli sekali dengan pendidikan. Mungkin tidak perlu sampai berlebihan jg ya sampai dari kecil terlalu banyak kegiatan belajar hingga tidak sempat main, tapi .. pendidikan yang ada di korea memang banyak yang sudah sampai Sarjana.
Mereka maju karena banyak publikasi dan juga paten.. bisa dilihat di Samsung dan LG yang sekarang jadi raksasa teknologi dunia. Produk2nya banyak banget dan beragam.. dari yang dulunya kita kenal cuma produsen mesin cuci dan alat2 dapurnya, LG bisa produksi TV, Handphone, laptop dan komputer, bahkan di korea sendiri menjadi provider telekomunikasi, seperti layaknya mobile 8 kalau di indonesia. Prestasi ini tidak lepas dari pendidikan yang jadi perhatian utama di korea.
Dengan demikian.. korea ingin menguatkan sayapnya… dengan memajukan negara2 asia lainnya. Dan di bawah ini adalah di kamboja. Dari korea dikirim exchange student dan pekerja sosial lainnya yang akan bertukar teknologi dan kebudayaan.
sumber: http://blog.daum.net/korea_brand/1371
====================================================================
Asia Exchange Association, the Cradle of Global Leader
Asia is becoming the leader of 21st century. But barriers caused by different languages, religions and also the controversial issues in history still remain, making it hard to draw cooperation among countries. So we need young leaders to bring them all together. Where and how can we find them? Asia Exchange Association may have an answer to that matter.
The Youth Opening the Future
AEA(Asia Exchange Association), registered in Ministry of Foreign Affairs, is a nonprofit organization. It was established in March 2005 to build the Asian network through education volunteer, and academic and cultural interchange by young people. Since it's establishment, AEA has cooperated with government organizations, institutions and schools for better future on a variety of interchange programs in economy, society, culture and academy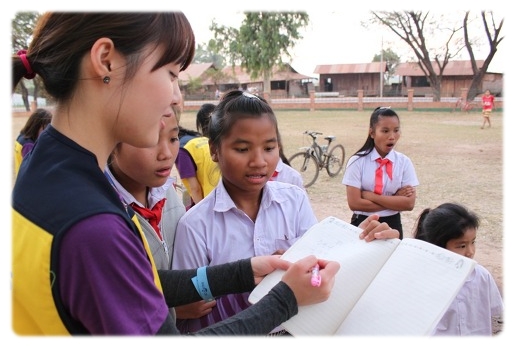 <Volunteers helping homework in Laos> (Source: AEA)
To start with dispatching volunteers to Cambodia, AEA sends out short-term volunteers every twice a year. AEA provides useful and novel education programs such as building libraries, making shoe closets, teaching languages, globalization and sanitization, and lastly art, sports and culture exchange so that young Asian people can understand each other and have awareness of how to behave as world citizens.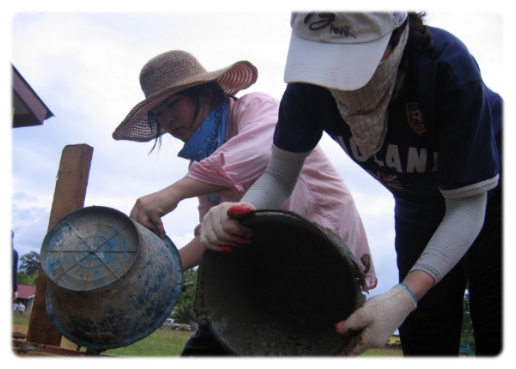 <Volunteers helping build up houses in Laos> (Source: AEA)
 Every school vacation, from January to February and from July to August, AEA dispatches students under 24 for volunteering for 11 days. Each team is made of 16 members and any Korean students under 24 can join.
The dispatched volunteers should have a sense of humanity and passion rather than the fluent English asthey go to the isolated villages for computer and reading class, introducting Korean culture and history, cultural performance. After reviewing applications and interview, AEA sorts out volunteers and train them for one month. After they complete the mission and come back to Korea, they have to go through a briefing session. Finally, AEA grants the certificates to every one of them.
What is International Legislation Support Program?
AEA puts an effort to get Asian countries more cooperative to each other. International Legislation Support program was made through the efforts. The Legal disputes happen very often as Korean companies go abroad more often than ever and their investment increases as well. That's why we need the firm and stable legal system.
AEA tries to improve the informationalized legal level of developing countries by exporting legal systems and culture, and supporting them to build the trial regulation, legislation, and manual.   In other words, International Legislation Support program will go beyond the export of Korean  legal system and exchange among lawers from both sides, and finally promote mutual friendship each other.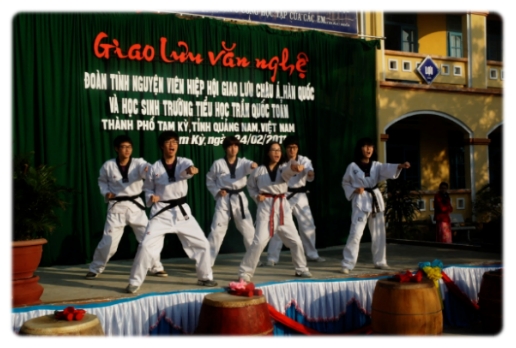 <Volunteers practicing Taekwondo in Vietnam> (Source:AEA)
There are four effects which are expected in International Legislation Support program. The export of Korean legal system will begin with more exchanges of international lawyers. Eventually, it will promote partnership among countries and help Korean companies and people to do a business.
Many Korean children dreams of being a global leader like UN Secretary General Ban ki moon. Isn't it because he gives the whole Asian children confidence that they can do it whatever they want. Let's be prepared for the dream to become a world leader beyond Asia.