When we travel abroad, we usually research and gather information about those foreign places beforehand so we could be prepared.
But even so, when we're actually there, more often than not we get encountered with situations where things aren't quite as we expected them to be.
Providing foreign travelers with accurate, on-the-spot, easy-to-access information while they are on their tours – that's the purpose of the web site "i Tour Seoul (www.visitseoul.net)" run by the Seoul Metropolitan Government.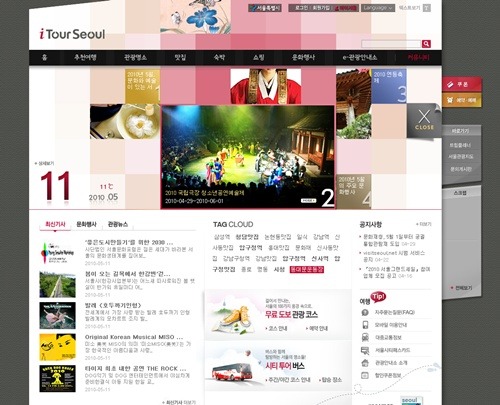 <Main page of "i Tour Seoul" web site>
It is a digital tour guide that offers a wide range of information regarding Seoul for foreign travelers who visit and tour around the city. The services are offered through the web site as well as at the kiosks installed at various spots in the city.
Starting late 2009, the services have also been being offered, on a tentative basis, via smartphones. And starting this month, it will be expanded for common usage.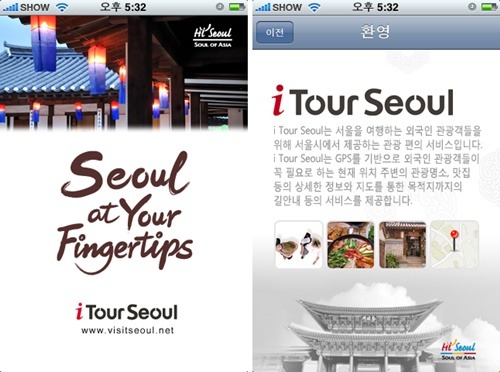 <iphone application>
Through iphone you can now access information contained in the "i Tour Seoul" homepage – information on tourist spots, making reservations for hotels, restaurants and performances, communication support etc.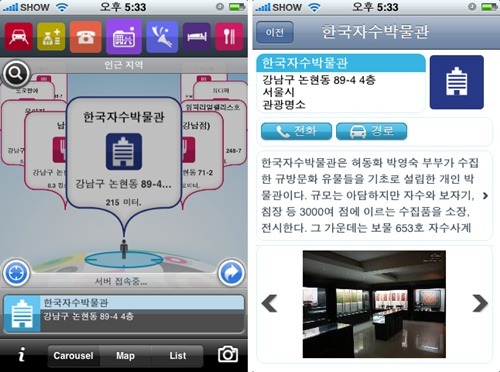 Also, the "i Tour Seoul" mobile application can perform search around the area, putting you in the center, for popular tourist sites, restaurants, public transportations and others.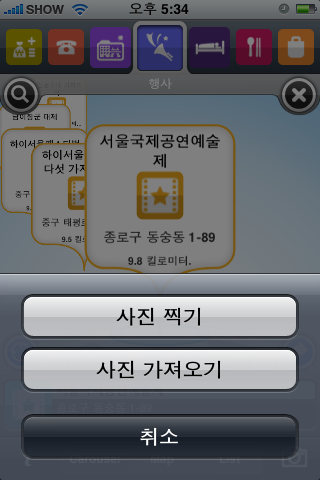 <iphone application>
One other interesting application is the one where you can take pictures of the spots you visit using your iphone and send them to your account at "i Tour Seoul" web site. And then later on, after you are done with your travel, you can download the pictures to your computer at your leisure.
These applications can be downloaded free-of-charge at the Apple App Store. And for those travelers who do not own an iphone, they can rent one at Incheon and Gimpo Airports, and also at the City Airport, Logis & Travel sites.
Transferring the entire information and functions of a web site as a mobile phone application is said to be an unprecedented tourism service.