There are Korean NGOs (Non-Governmental Organizations) that aid the poor and the ill, give hope to the despaired around the world. Southeast Asia, Africa, Central America, South America….anywhere they are needed, Korean volunteers reach out their helping hands.
Many of the Korean NGOs work overseas, providing the recipient countries with charity funds. Some of those funds come from the ODA (Official Development Assistance) of the Korea Overseas Cooperation Agency (KOICA).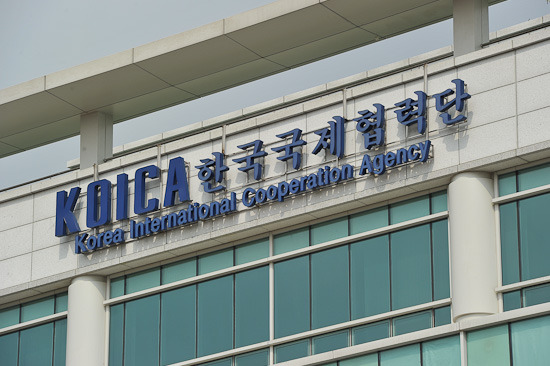 KOICA was founded as a government agency in 1991 to maximize the effectiveness of Korea's grant aid programs for developing countries. The agency manages grant aid and technical cooperation programs, as well as the Economic Development Cooperation Fund (EDCF) through which concessional loans for development projects are provided to the governments of developing countries.
And there is KCOC (Korea NGO Council for Overseas Cooperation), an association of 66 development NGOs. They engage in implementing development and aid projects with the aim to eradicate poverty around the world. The number of its members has doubled since 1999.
With the ultimate goal of meeting the suggested volume set by the OECD, Korea plans to expand its size of ODA first to 0.15% of its GDP by 2012 and to 0.25% by 2015. There isn't a comprehensive statistics on the volume of aid and the number of members of Korean NGOs, but the volume of the government grants for NGOs is estimated to be USD 6.47 million. The NGOs also take donations from private companies, religious organizations, and individuals.
In May 2009, the Korean Government launched "World Friends Korea," a consolidated brand of Korea's overseas volunteer groups, to generate synergy and to facilitate the management of volunteer activities on a national level. This also was one of the 10 key projects undertaken by the Presidential Council on Nation Branding.
Notable NGOs of Korea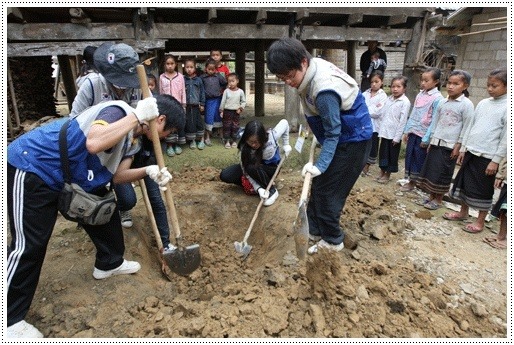 <A Korean NGO's volunteers, photo courtesy of www.koreabrand.net>
Some of the most active Korean NGOs abroad include the World Vision, Good Neighbors, and Join Together Society.
The World Vision (https://www.worldvision.or.kr/eng/index.asp) is a relief, development and advocacy organization dedicated to working with children, families and their communities to address the causes of poverty and injustice. Their work includes educating children, emergency relief, agriculture and medical support among various others.
Good Neighbors International (http://www.gnint.org/eng/) is an international humanitarian and development organization originated in 1991 from Seoul, Korea. In the beginning it concentrated on projects such as helping orphans and handicapped children, finding homes for disadvantaged widows, rural community development, and assisting disadvantaged families of TB patients in Korea.
But over time it has become an organization offering assistance to anyone in need regardless of race, nationality, religion, ideology, or geographical constraints. For example, Good Neighbors International has been particularly involved in the Rwandan refugee situation. It has been providing several medical relief teams and the operation of two non-formal schools at the refugee camps since 1994.
In 1996, Good Neighbors International became the first international NGO from Korea to receive General Consultative Status, the highest status level, from the United Nations Economic and Social Council.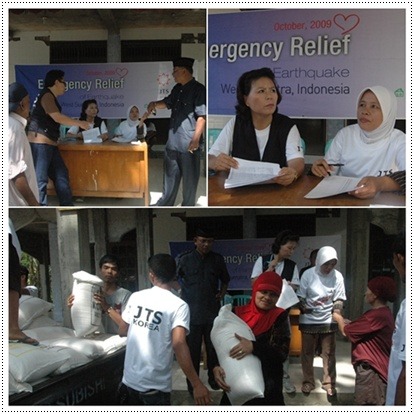 <JTS emergency relief team at the 2009 earthquake in Indonesia (www.jts.or.kr)>
The Join Together Society (JTS: http://www.jtsint.org) is an international relief agency established in 1993 for eradicating famine, disease, and illiteracy. Its work includes village development, emergency relief, providing primary education, medical clinics, and assistance to North Korea.
Some other Korean NGOs include the Korea Food for the Hungry International, the GCS Club, Korea International Volunteer International and others.
The efforts to help and share with those in need around the world – Keep it up, Korea!